Discovering the Extendicare Difference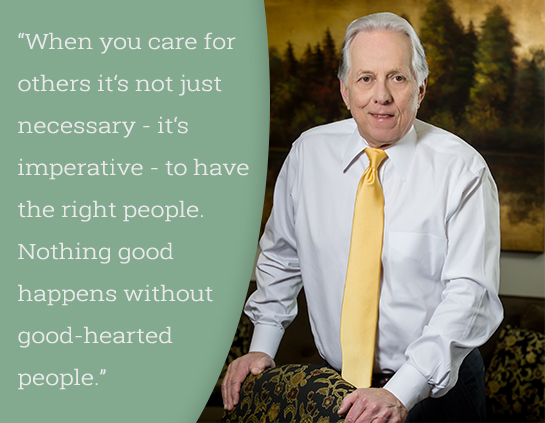 I have learned many things about healthcare since starting out as a small town pharmacy assistant in the Midwest 45 years ago. My young career took an unexpected shift when the pharmacist for whom I worked gave me the opportunity to learn how to manage a nursing home which he owned.
The early 1970s was a very different time in the healthcare industry. Nursing homes were not yet the skilled, state-of-the-art facilities seniors enjoy today. But back then, given this new opportunity as a young man with a family, I felt truly called to make a difference in the lives of the home's elderly residents.
With this newfound experience in nursing home management, I followed my desire to make the lives of seniors better by moving my young family to Dothan and purchasing Extendicare in 1977. My family and I immediately felt at home here in the Wiregrass.
When I look back at those times, one thing I learned stands out above all. When you care for others it's not just necessary – it's imperative – to have the right people. Nothing good happens without good-hearted people. It was from these early experiences that I developed Extendicare's Principles of Service, which continue to guide our team's actions today.
Nursing home care has evolved to be an important and intricate part of the healthcare industry. As the healthcare industry rapidly changes, it is a source of comfort for our patients and their families to know that Extendicare's commitment to quality care and family values will always remain steadfast.
Each day I truly look forward to visiting with the residents and staff of Extendicare just as much as I did when I came to the Wiregrass nearly 40 years ago. I invite you to learn more about Extendicare's services and locations here on our website, and of course, you're always welcome to schedule an in-person visit if you'd like to see the "Extendicare difference" for yourself.
Please feel free to call or email us today with any questions you might have about you or your loved one becoming part of our Extendicare family.
David Dennis
Founder, Extendicare
Extendicare's success over the decades is based on a few basic principles which guide the Dennis family and the company today: