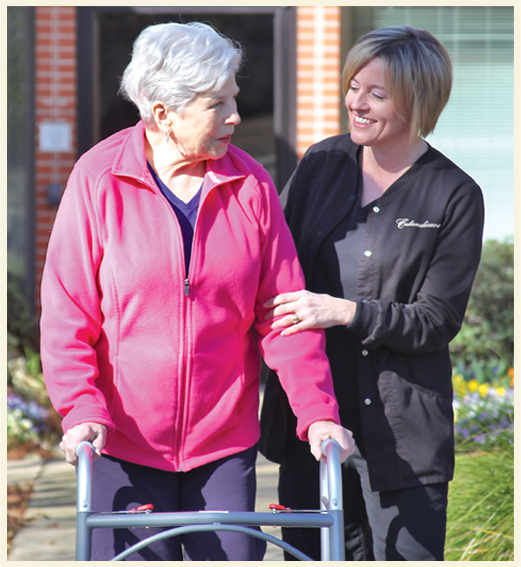 Dedicated Care.
Southern Hospitality.
Our Services

Choosing the right setting for your recovery is one of the most important decisions you'll make when preparing for a medical procedure. Extendicare offers beautifully decorated private, patient rooms with all of the comforts and privacy of home. Take a tour of our community today.
We understand how difficult it is to seek long-term care for yourself or a loved one. We've been helping individuals and families cope with these tough choices for nearly 40 years. It is our privilege to know each of our residents and share their home each day.

Better living starts with better choices, and our residents get to make them every day. Everything from tomorrow's breakfast menu to the decor of their living area is decided by our seniors and their families. We delight in helping our residents stay active and involved in life.
Welcome to Extendicare
Extendicare is Southeast Alabama's premier destination for Senior Rehabilitation, Long Term Care and Assisted Living. With nearly 40 years of compassionate service to Wiregrass seniors, our wide range of services are all built on a foundation of respect for one's life experiences, dignity and individuality. Our professional, nurturing staff is dedicated to caring for our residents every hour of every day while meeting all regulatory requirements – and Extendicare's own high expectations – for outstanding service and care.
Our Principles of Service
Extendicare founder David Dennis developed our Principles of Service to guide our family of employees as they assist our seniors in all of their daily needs.
Testimonials
Charles Granger- -

I received excellent care during my tow stays at Extendicare.

Nellie Lucas- -

At Extendicare, I like the fact that I could have visitors at any time.

Ruth Ashley- -

I could not have picked a better, clean place. The staff are all so 
wonderful – from Administration to Nursing to Housekeeping.

Sylvia Dykes- -

If I ever have to have rehab again, I would choose Extendicare.